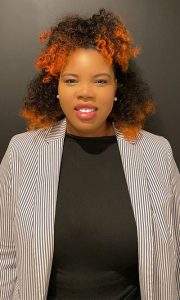 Brittany Walker is a dedicated professional with a passion for helping students succeed while embracing their true selves.  Originally from Orlando, Florida, she considers Baltimore her hometown and has overcome many challenges to become the first person in her immediate household to earn both a bachelor's and master's degree.
Brittany attended Lincoln University in PA, where she earned her BS in Human Services and Sociology.  She then went on to earn her master's in human services administration from the University of Baltimore.  Before joining the ACES community, Brittany served as Assistant Director for the UMBC Upward Bound Program, helping low-income, first-generation, and academically at-risk students in Baltimore City and County for over ten years.
With a deep commitment to helping vulnerable people and communities work through the challenges they face in everyday life, Brittany decided to earn her master's in social work at Morgan State University.  Her extensive experience and education have equipped her with the skills and knowledge necessary to make a meaningful difference in the lives of those she serves.
In her spare time, Brittany enjoys decorating homes, planning events, traveling, reading, driving without directions, and exploring DMV food culture.  She is a dedicated professional who is always looking for ways to improve the lives of those around her.