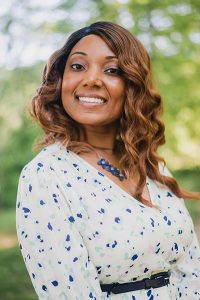 Danielle Jordan has worked over 9 years in high school, middle school, college, and TRIO Programs – supporting diverse student populations. Danielle joined ACES in August 2021 where she is providing career coaching and facilitating programming for ACES High School Students as one of the ACES Career Readiness Coordinators. She looks forward to assisting ACES students with preparing for their academic and career goals.
Prior to ACES, Danielle was a high school counselor serving students and their families at Albert Einstein High School. In that position, she provided academic, social-emotional, college, and career readiness support to students – including some in the ACES population. She has also served students in her counseling career in Baltimore City, Baltimore County, and Prince George's County Public Schools.
Before her career in counseling, Danielle worked for Notre Dame of Maryland (NDMU), as an admissions counselor for the Women's College. She also worked for 5 years in the Community College of Baltimore County (CCBC) Upward Bound Federal TRIO program. Danielle is a first-generation college graduate who earned her B.A. in Liberal Arts from NDMU and her M.S. in School Counseling at Johns Hopkins University. As a college student, Danielle also participated in a federally funded program called Project SPARK in undergrad that provided student support similar to the ACES pathway.
In her personal life, Danielle dedicates time volunteering for youth and community outreach organizations and programs. She enjoys walking and yoga, team building activities, attending art workshops, visiting museums, and spending time with friends and family.
The Universities at Shady Grove
Building III, Office 1110
Office phone: 301-738-6023
dsjordan@umd.edu