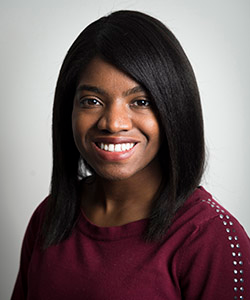 Tahrea is a social worker who has been working at Montgomery College since 2017. At the College, she has served as a program coordinator for the Office of the Senior Vice President for Student Affairs leading the Peer2Peer Mentoring Program and assisting with the development and implementation of programs and services through the Student Health and Wellness (SHaW) Center for Success to support the well-being and basic needs of students. Prior to working at Montgomery College, Tahrea has served college, high school, and middle school students with learning and social difficulties by coaching and teaching various career readiness, academic, and life skills. Tahrea also has experience as a clinician supporting adults in building skills for positive life outcomes and providing therapy.
Tahrea earned her Bachelor of Social Work from West Virginia University and Master of Social Work from the University of Maryland, Baltimore (UMB). At UMB, Tahrea focused on community action and social policy, management, and social work in education. She earned a Human Services Management Certificate and served as a graduate intern with ACES where she completed an evaluation of the program and led the implementation of a Dress for Success program which provided ACES college students with education about and access to professional attire.
Tahrea is excited to support ACES students holistically to overcome obstacles, build skills for success, and achieve goals and aspirations to positively impact their futures, families, and communities.