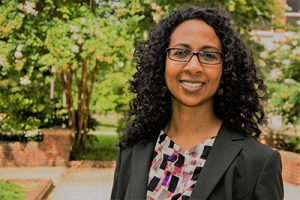 Ranetta brings 22 years of student development experience, as a practitioner and researcher, to the ACES coaching team. In her work she seeks to inspire, encourage, and empower young people to actualize their dreams.
Prior to joining Montgomery College, she worked as a research scientist on issues including restorative justice in schools; high school completion rates; rural–nonrural differences in postsecondary educational expectations and attainment; and performance-based compensation for teachers and school leadership. Ranetta served as deputy director of a public policy scholars program—creating a pipeline of progressive activists and public servants. She has taught and developed college-level courses including a study abroad course in Istanbul, Turkey for the University of Maryland, College Park (UMCP). She also led service-learning experiences for the University of Pittsburgh (Semester at Sea) as she travelled around the world—she continues her pursuit to increase underrepresented students' participation in education abroad. Additionally, she received the Cliff & Camille Kendall Outstanding Service to Students Award for her work as an academic and career advisor for UMCP's Smith School of Business at The Universities at Shady Grove (USG).
She received a bachelor's degree in politics and economics from Lake Forest College (Illinois) and a master's degree in higher and postsecondary education policy from the University of Michigan, Ann Arbor. She is certified by the American Sailing Association (ASA) in keelboat and coastal navigation. And she recently became inspired to hike the AT after reading Derick Lugo's The Unlikely Thru-Hiker (2019).