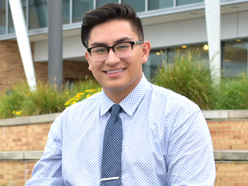 Throughout my high school career, I knew college was the right decision. However, my parents knew very little about this country's college education system. My high school counselor recommended that I apply for the Achieving Collegiate Excellence and Success (ACES) program to help prepare for college. ACES has made it really easy to transition to high school to Montgomery College (MC) and now to the Universities at Shady Grove (USG).
While I was at MC, my ACES coach informed me about the University of Maryland, College Park's (UMCP) Terp Transfer Partnership (TTP). TTP is a direct pathway from MC to UMCP at USG in select majors. I wanted to major in Biological Sciences, which is part of TTP. By participating in TTP I was able to take advantage of early access to USG advisers and services and additional scholarship opportunities.
ACES' impact on my education has been incredibly empowering. The ACES program has always shown their relentless support in both an educational and financial level. I am fortunate enough to have become an ACES Champion Scholar. The strength and inspiration ACES has given me makes me feel boundless.
I am currently preparing for the Dental Admissions Test so that I can be accepted to University of Maryland School of Dentistry once I graduate with my bachelor's degree.